Case Example2 Park Street at Kichijoji Dai-Ichi Hotel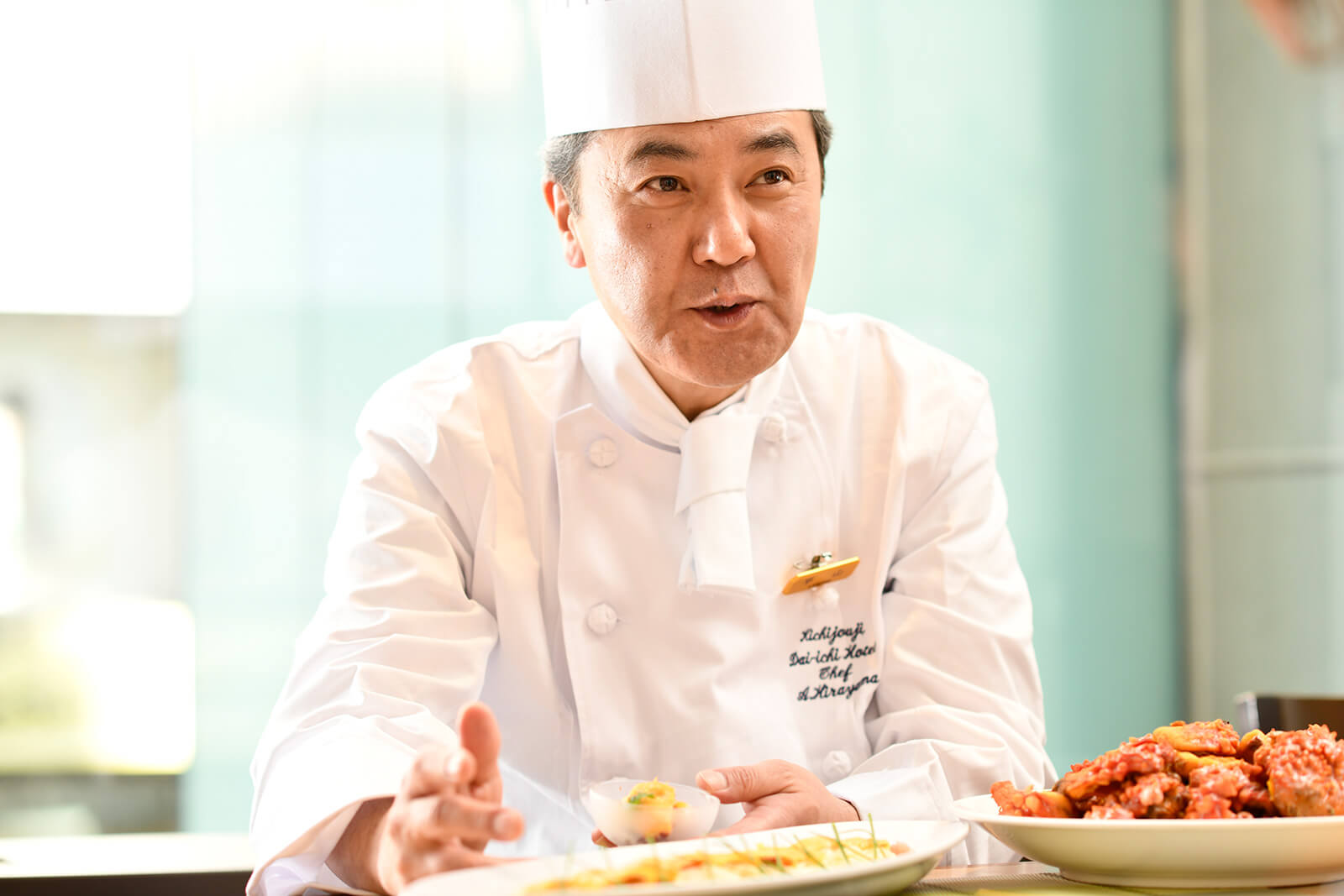 Co-operating Company : Hankyu Hanshin Hotels
Location : Kichijoji Dai-Ichi Hotel
Representative from Park Street : Executive Chef Akio Hirayama
Park Street
Sea Pineapple – An unfamiliar seafood despite people's interest in it
For holding our hotel group's Miyagi and Yamagata Fair in 2017, people in charge of the fair split up in groups and visited food providers in Miyagi Prefecture. It was at that time that I was first introduced to Steamed Sea Pineapple by one of the fair staff who visited Senrei and informed me that such a product existed. Senrei was the only company that offered sea pineapple. I thought since we decided to use scallops in teppanyaki cooking that we should try sea pineapple. And it is also a product that is quite difficult to obtain here.
Since Park Street is a buffet style restaurant, it was decided to completely fill our buffet with foods from Miyagi and Yamagata Prefectures during the fair. At first, when I received the food list, I thought about how I was going to fill the buffet with those foods. I was confused about whether to include sea pineapple also considering the fact that the food is quite unfamiliar to people in Tokyo. However, it was delicious when I tasted it and decided since it is this good that I would try to use it.
Safety and possibilities offered by Steamed Sea Pineapple
Although I tried several versions of sea pineapple during the sampling stage, including sea pineapple which can be eaten raw*, I selected Steamed Sea Pineapple more because of the fact that it was steamed in advance rather than because of its taste. Safety is most important when handing food at the hotel. "Safety and Security" is our number one policy. Therefore, I decided that the product is completely safe since it is a product that was frozen after being steamed which is then cooked again.
We normally use frozen foods. Although they are frozen foods, the way they are prepared depends on the type. For example, there are frozen foods which can be used after being thawed, frozen foods which can be cooked in a frozen state, etc. Since Steamed Sea Pineapple from Senrei is delivered in the shell, at first it thawed in a refrigerator one day before we plan to use it, and later removed from the shell. Although the sea pineapple removed from shell can be eaten without cooking at that point, we lightly cook it.
I considered preparing sea pineapple as an appetizer as part of the menu during the fair. Also, sea pineapple itself has a strong image of being an ingredient of Japanese food, so it is standard to eat it as sashimi, as a pickled dish, etc. However, I didn't think such approached were interesting, so I thought about presenting it as a Western cuisine item. I thought that Steamed Sea Pineapple was just right for the job.
*In addition to Steamed Sea Pineapple, one of the frozen sea pineapple products offered by Senrei, Sea Pineapple Sashimi, which is served raw, is also available.
Senrei Sea Pineapple, processed using CAS (Cells Alive System) technology, was also newly released.
next Senrei's product completely changed my idea about sea pineapple.