Case Example 3: Restaurants at Dai-Ichi Hotel Tokyo and Dai-Ichi Hotel Annex
Case Example 3: Restaurants at Dai-Ichi Hotel Tokyo and Dai-Ichi Hotel Annex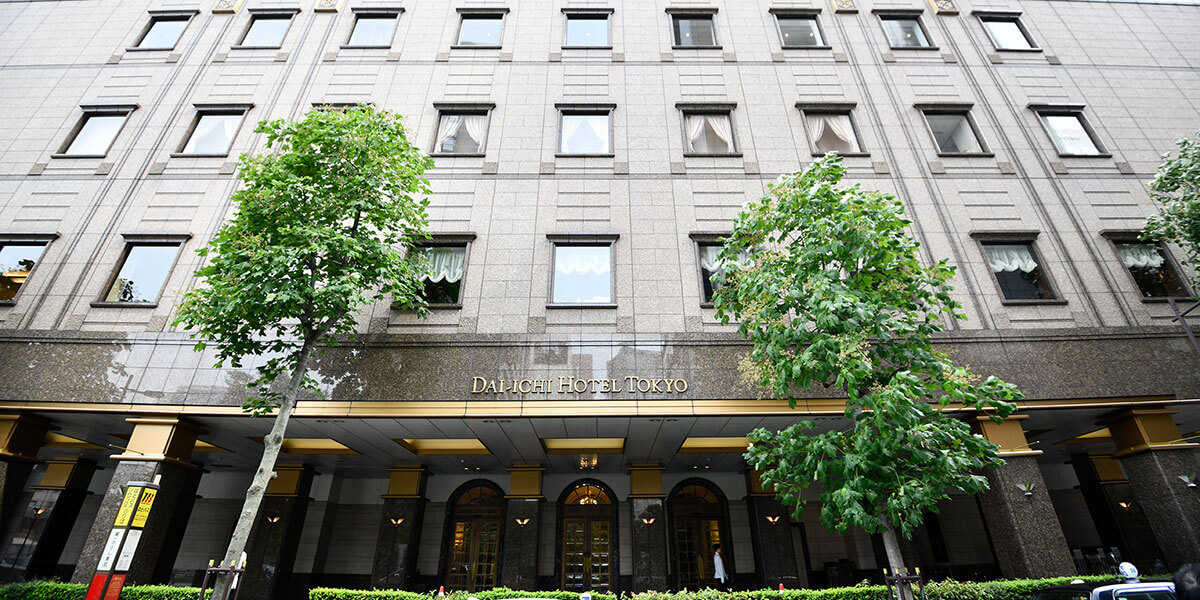 Company : Hankyu Hanshin Hotels
Location : Dai-Ichi Hotel Tokyo and Dai-Ichi Hotel AnnexFrench Restaurant ENCHANTÉ Information
LOUNGE 21 Menu Information
Trattoria La Paranza Information


French Restaurant ENCHANTÉ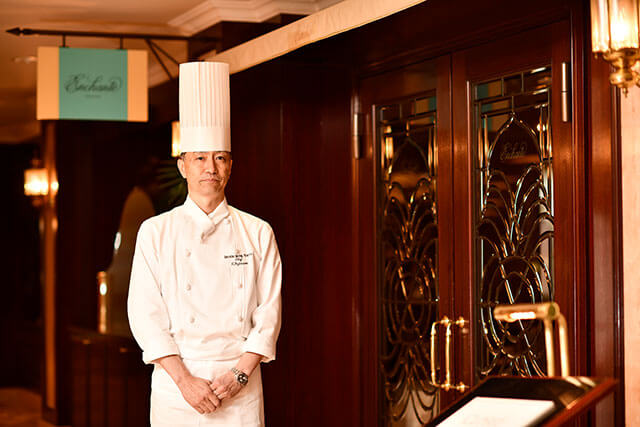 Executive Chef Toshiyuki Fujinami
Grilled Scallops with Green Pea and Truffle Sauce is a dish that we placed on our menu in early summer. Leaf bud was used to accent the dish. Our current version features two small sized scallops with finely crushed mushrooms on the side fried in butter to make champignon duxelles which is combined with scallop mousse and diced ingredients, made into a hamburger shape, and then grilled. It is delicious even when deeply cooked and also fresh when served half raw. We can serve it either way.Senrei Scallops always retain umami since they do not drip even when thawed. It is clear that these frozen scallops are in a class by themselves. The problem with raw scallops is that they cannot be stored. Frozen scallops can be easily used but typically drip during thawing. Senrei Scallops is the solution to both of these issues. Also, I was surprised to see that Senrei Scallops are robust in size considering that scallop fishing has continued to be poor in recent years. In the past we obtained fish from France for which a similar freezing technology was used, but what we are using now is really great. I can also feel that the technology has really moved forward and, most of all, think it is great that there is a system where scallops can be processed soon after being caught.




French Restaurant ENCHANTÉ
Dai-Ichi Hotel Tokyo, 2F
French Restaurant ENCHANTÉ is Dai-Ichi Hotel Tokyo's main dining location featuring a relaxed setting, European tradition, and refined classical atmosphere. From course menus to a la carte dishes, customers can select from a variety of our French delights which can be enjoyed with wine.
LOUNGE 21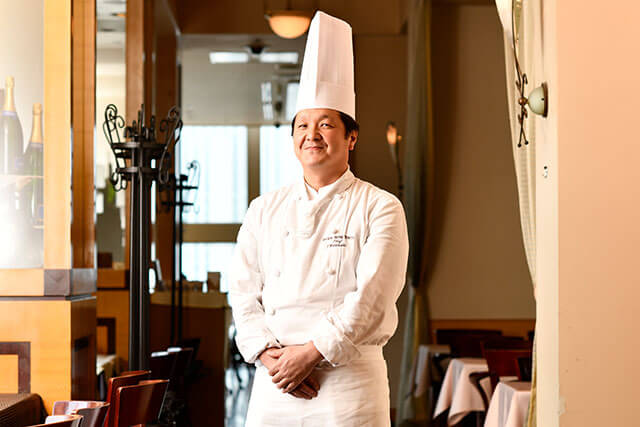 Chef Jun Watanabe
This dish has been prepared as part of a special menu which will be available starting in September. It features grilled scallop with angel shrimp on the side. A fall menu item, the saute of this dish is cooked when the eggplant is baked in the oven. Tomato is found in the center of the dish surrounded by Bourguignon butter and a white wine sauce. The red ingredient is pink peppercorn, and the creation is topped with asparagus leaves. The sauce is made of vegetable ingredients and butter only so that the delicious sweetness of the scallops stands out. Frozen ingredients may have a smell, but since they are fresh, they are really easy to use without worrying about freshness.The first attractive feature of Senrei Scallops is their size. Their size does not change even when thawed. When we compared them to fresh scallops around the same size used at other restaurants, we found that the others were really inferior, so this is why we decided to use Senrei Scallops. Frozen scallops cost less than fresh scallops, and at a restaurant like ours, frozen scallops are helpful since we always need to be able to accommodate a certain amount of customers. Now they are normally stored in the freezer.
LOUNGE 21
Dai-Ichi Hotel Tokyo, 21F
LOUNGE 21 is a luxurious lounge with an Art Deco interior situated on the top floor of the hotel that offers panoramic views of Ginza and Shiodome and Tokyo Bay.
From lunch time to tea time and from twilight to dinner time, you can spend a relaxing time while watching the city scenery that moves over time.
During bar time, we provide a space suitable for finishing your day where you can enjoy your favorite drink while taking in the night view of the city.
Trattoria La Paranza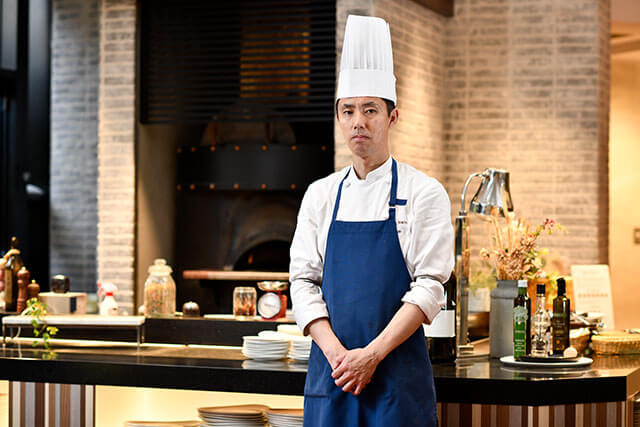 Executive Chef Naoki Watanabe
We use Senrei Scallops for somewhat special dishes. The dish I will be introducing is called "Scallop Carpaccio with Herb Vegetable Garnish and Dried Mullet Roe Flavor." In Italian cuisine, fresh ingredients are not used very much, but this time we add color to the bitterness of vegetables by accenting it with dried mullet roe and balance it with the sweetness of the scallops. Since Senrei Scallops are large in size, they are big enough to comprise a dish. In addition to being able to serve them raw, another big advantage of using these scallops is that they can be prepared many ways with poeler, meuniere, etc. since they offer solid quality even after thawing. Scallops are sometimes completely grilled, singed, and served with butter, it has an impact which also makes customers pleased. Our next fair will feature foods from three prefectures in the southern Tohoku region, so we definitely plan to use Senrei Scallops as a food from Miyagi Prefecture.When I observed the "Miyagi and Yamagata Fair" last year, I also visited Senrei's processing facility. To be honest, I never thought that a facility like that existed in such an area. Everything that I sampled was delicious, but I was also impressed by the fast workflow of the staff who understand how to handle fish for processing.
Trattoria La Paranza
Dai-Ichi Hotel Annex B1F
Enjoy Neapolitan pizza and other Italian dishes as well as wine in a casual setting. Featuring a stylish interior, you will be satisfied with the Italian cuisine and select wines that the restaurant has to offer.