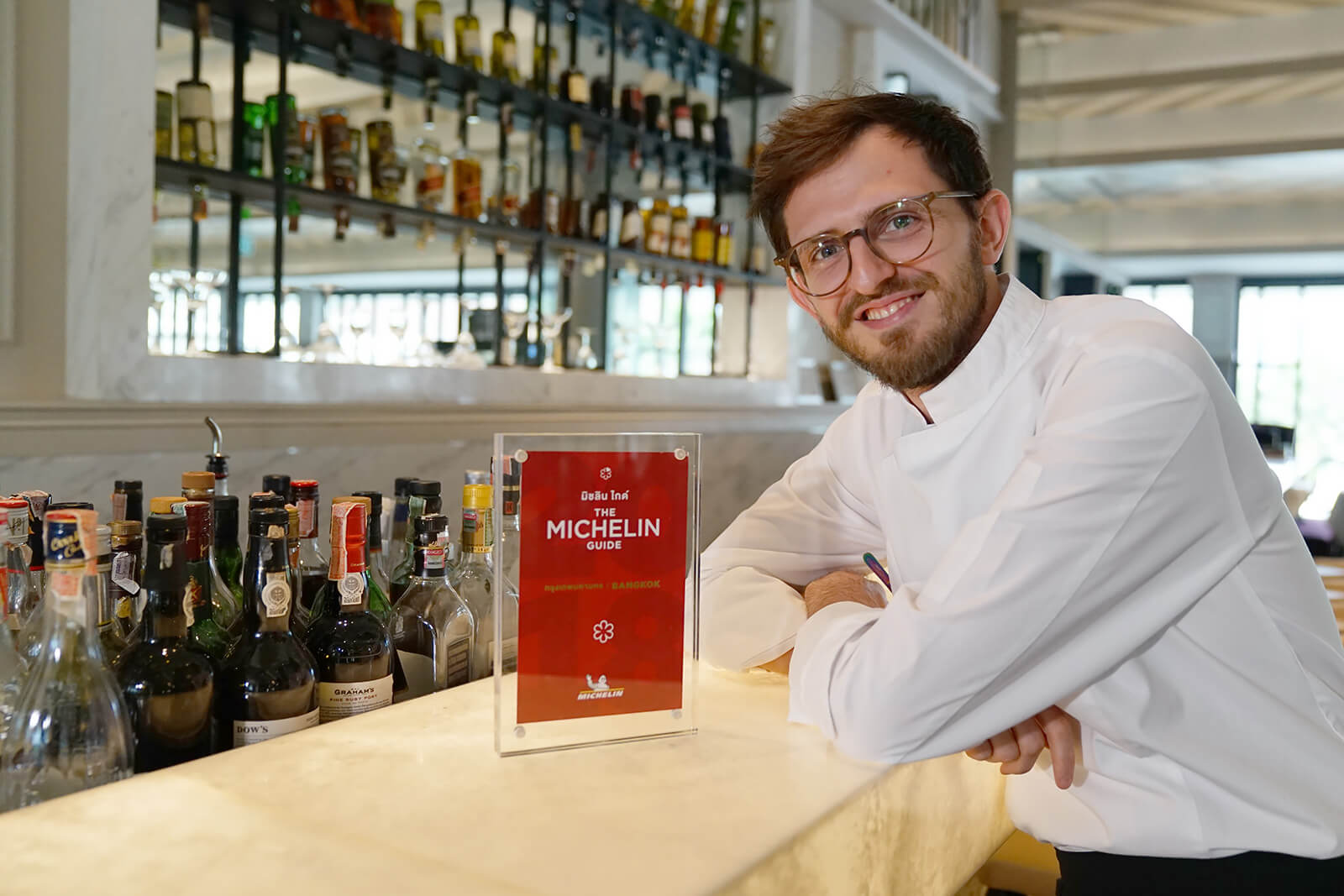 Client: J'AIME BY JEAN-MICHEL LORAIN
Interviewee: Chef Amerigo Sesti
J'AIME BY JEAN-MICHEL LORAIN
Medium rare, the best way to cook scallops
This is our warm starter, the Pan-seared Scallops on Oxtail with Black Garlic Consomme. On a bed of consomme jelly made from oxtail and black garlic, we placed sliced scallops which are quickly seared only on one side. A microgreen salad surrounds the dish, and Jerusalem artichoke foam sits on the top, topped with garlic chips.
This dish used to be on the menu before, and it will be back at some point. This is an original recipe by our owner in France, Chef Jean-Michel Lorain. In general, the flavor of the scallops comes out very well when lightly seared. The inside is still almost raw – medium rare – the freshness of the scallop and texture is accentuated with the caramelized flavor on top. In this dish, the consomme and the black garlic matches add depth to the caramelized flavor, and the caviar brings out the flavor of the seafood. As you can see, the various ingredients come together to lift up the scallops, so to speak.
Professionalism to the rescue
When gathering ingredients, maintaining the level of quality is always the issue. We always think about how to get our hands on ingredients which are easy to use, ingredients with consistency in size and taste. Ingredients from various areas in the world may lead to unique flavors and textures, but for scallops, consistency in the quality is the key.
For the past 4 years, we have always had scallops on our menu, may it be starters or in our main dishes. To be honest, before we started using Senrei Scallops, we ran into issues with size, and at times, ran into problems with the condition of the frozen scallops. Since switching to Senrei Scallops, we've had zero issues. The size is always consistent – we believe this is a reflection of the professionalism of Senrei in its transport, production, and packaging.
The difference since we switched products is that we started making a mousse. The mousse with scallop and prawn was perfect. We cooked in Classic French style by poaching or steaming after blending both the scallops and the prawns with egg white and whipping with creme. The result was a very smooth consistent texture.