Japan Quality
SASHIMI-GRADE
Onagawa's "Delicious" to the world.
Senrei is located in Onagawa Town, Miyagi Prefecture of the Tohoku region (southern tip of the Sanriku coast on the Pacific Coast).
Senrei is located in Onagawa Town, Miyagi Prefecture of the Tohoku region (southern tip of the Sanriku coast on the Pacific Coast).
The Sanriku coast is known as an excellent fishing ground with a high catch due to the collision of "Oyashio" (cold current) and "Kuroshio" (warm current); it is called one of the world's three biggest fishing grounds. The local Onagawa fishing port is one of Japan's leading fishing ports with many fish landings throughout the year.
The "ria coast" of Sanriku, which spreads out similar to the shape of a saw, has many scattered islands. Many minerals constantly flow into the ocean from the forest spreading in the mountains, creating a large quantity of plankton. For this reason aquaculture is actively conducted in the nutrient-rich sea in the area.
Senrei selects high-quality items from abundant fishery resources unique to Sanriku based on a relationship of trust with fishermen and reliable selection capabilities that have cultivated over many years, and processes products to create the highest possible quality products with advanced equipment and skills of craftsmen. Its quality has been highly acclaimed not only in Japan, but also throughout Asia.

Products of Senrei
Combining advanced technology and craftsmanship, the product lineup of Senrei is built on the rich blessings of the ocean of Onagawa.
We aim to continually develop products that are fresh, delicious, safe, reliable, and easy to use.
Senrei CAS FRESH
Promoting Sanriku Onagawa's rich ocean blessings to the world through advanced freezing processing technology.

Senrei has introduced CAS (cells alive systems) technology for frozen storage of fish and shellfish. CAS technology vibrates water molecules in a special way and prevents cell tissue from being destroyed during freezing. Using conventional refrigeration technology, ingredients such as umami drip out as the meat is thawed, but by using CAS technology, which does not damage cell membranes, frozen storage of ingredients in which freshness and umami are maintained is possible.
"Senrei CAS FRESH" is a product series recognized as "CAS FRESH," indicating the highest quality in terms of safety and taste, among the food products frozen by CAS technology. Products of "SASHIMI GRADE" that can be stored frozen while maintaining the highest quality possible contribute to ensuring stable ingredients in many hotels and restaurants, expanding the possibilities of the menu items.
At the Senrei headquarters factory, we installed CAS technology equipment in the tunnel freezer for the first time in the world. Mass production of "CAS FRESH" products is made possible as the food material is frozen while traveling on a belt conveyor that is 16m in length, and the environment for stable supply of high quality goods has been established. Furthermore, we utilize various advanced facilities in the factory and promote product development in packages and shapes that are easy for customers to use.

Senrei Scallop Ligaments
In Sanriku, the unique characteristics of the Ria coast are utilized, and in the ocean where a large amount of plankton as food is generated, shells are hung on buoys to slowly grow scallops. Sanriku scallops, grown in a nutrient-rich sea, have a large ligament that is thick and full of flavor. We have a strong confidence in that regard.
We are proud to provide "Senrei Scallop Ligaments" as shelled scallops of the Sanriku area with "CAS FRESH" quality through freeze processing. In surveys that analyzed the taste, it was reported that the taste of CAS frozen processed scallop ligaments is stronger than that of ordinary frozen scallops.
Following thawing, it can be served raw for dishes such as sashimi. In addition, various rich flavors can be utilized to create various menu items.
Moreover, original packages developed independently can be easily used simply by peeling off the stickers and can be used for preservation as they are. Because the container is transparent, the remaining quantity can be confirmed at a glance. It is an easy-to-use 1kg, double pack divided as two is also popular.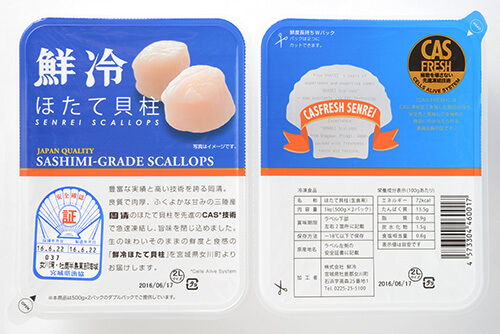 ・Content weight: 1kg (500g×2)
・Quantity 6 packs/1 case
・Single item: width 284mm, height 74mm, depth 180mm
・Single item weight: 1,100g
・Case size: width 29mm, height 165mm, depth 545mm
・Case weight: 7,000g
・Minimum lot: 2 cases (1 bundle)
・Expiration date: 2 years
Senrei Pacific Saury Sashimi
Pacific saury, which is in season in autumn, is a representative fish of Sanriku. The Onagawa fishing port boasts one of the leading domestic landings of mackerel, which are known for high quality with plenty of fat.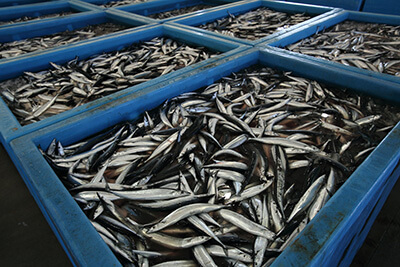 "Senrei Mackerel Sashimi" is processed seasonal mackerel, which landed on the Onagawa fishing port, into fillets that are easy to use while maintaining high freshness and freeze-processed with "CAS FRESH" quality. Because the freezing processing also allows damage by parasites to be avoided, sashimi and other raw foods can be easily provided with confidence without the need for filleting the fish when cooking, making it possible to provide a wide variation of menu items.
・Content: 10 pieces
・Quantity: 10 packs/1 case
・Single item: width 210mm, height 20mm, depth 295mm
・Single item weight: 300g
・Case size: width 395mm, height 185mm, depth 315mm
・Case weight: 4,000g
・Minimum lot: 2 cases (1 bundle)
・Expiration date: 1 year
Senrei Side Dish Series
Taste of Home Cooking of Onagawa Stewed Mildly Ginger-Flavored Fish


The "Senrei Side Dish Series is a series of cooked Japanese side dishes that have preserved the long-cherished taste of "Onagawa's Mother's Cooking." After landing, the fish are quickly cooked until the bones have become soft and are subsequently packed in special trays. Storage at room temperature is possible. The special tray is size that you can eat casually by yourself and can be used in microwave ovens. Because it is designed in the style of dish, it can be arranged on the table as is. We use no extra additives or preservatives, so customers can enjoy our products with peace of mind.
Content weight: 90g
Expiration date: 300 days/storage at room temperature
Stewed Sanriku Pacific Saury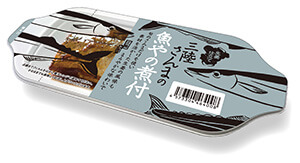 Pacific saury, which contains high quality fat, melts in the mouth when it is chewed.
Stewed Sanriku Mackerel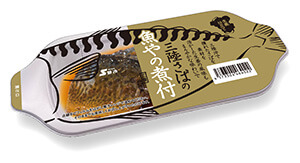 Mackerel, which fully absorbs the taste of the stew, breaks apart easily and has a mild taste.
Stewed Sanriku Japanese Sardine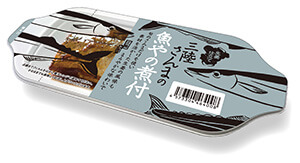 Japanese Sardine, which has plump and tight meat, has no fishy smell and features a soft and fluffy texture.
---
Detailed materials and information on Senrei products are announced by sales staff.
---
Company Overview
Senrei Co., Ltd. is a new company that was established in response to the Great East Japan Earthquake by four companies, led by Ishimori Shoten Co., Ltd., which has been engaged in refrigeration and freezing business of fresh fish in Onagawa Town, Miyagi Prefecture, and Okasei Co., Ltd., which handles processing and sales.
・Location
25-1 Ishihamaazatakamori, Onagawa-cho, Oshika-gun, Miyagi-ken
・Description of business
Sale of fresh fish/Manufacture and sale of frozen products/Fishery processing industry
※Senrei is working on obtaining FSSC 22000 certification concerning advanced international sanitary standards based on our own food safety policy.