Foodservice Products
Senrei CAS FRESH Series
Frozen Ready-to-Use Seafood for Sushi
Other Foodservice Products
Professional Grade Products: For foodservice operators – hotels/inns, sushi restaurants, restaurant chains, and owner chefs of any cuisine
Onagawa's bounty of the sea has been combined with advanced technology and craftsmanship to create this lineup of professional-grade products by Senrei.
While expanding the possibilities of menus and shelf life with frozen ingredients, we will continue to develop products with ease of use in mind.
The series for professional use produced using CAS freezer. All of CAS FRESH series can be eaten raw (sashimi-style) after thawing. These products have gained the trust and earned an excellent reputation among hotels, restaurants, and chefs, both in Japan and overseas.
"Ready-to-eat ingredients for sushi" series can be used right after being thawed. Offers freshness and flavor throughout the year.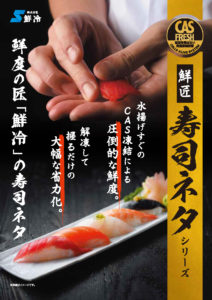 More about Ready-to-Use Ingredients for Sushi
Made from fresh seafood from the Sanriku coast which can be served with minimal preparation.