Case Example 5: Osteria Tutto Sole Italian Restaurant in Oimachi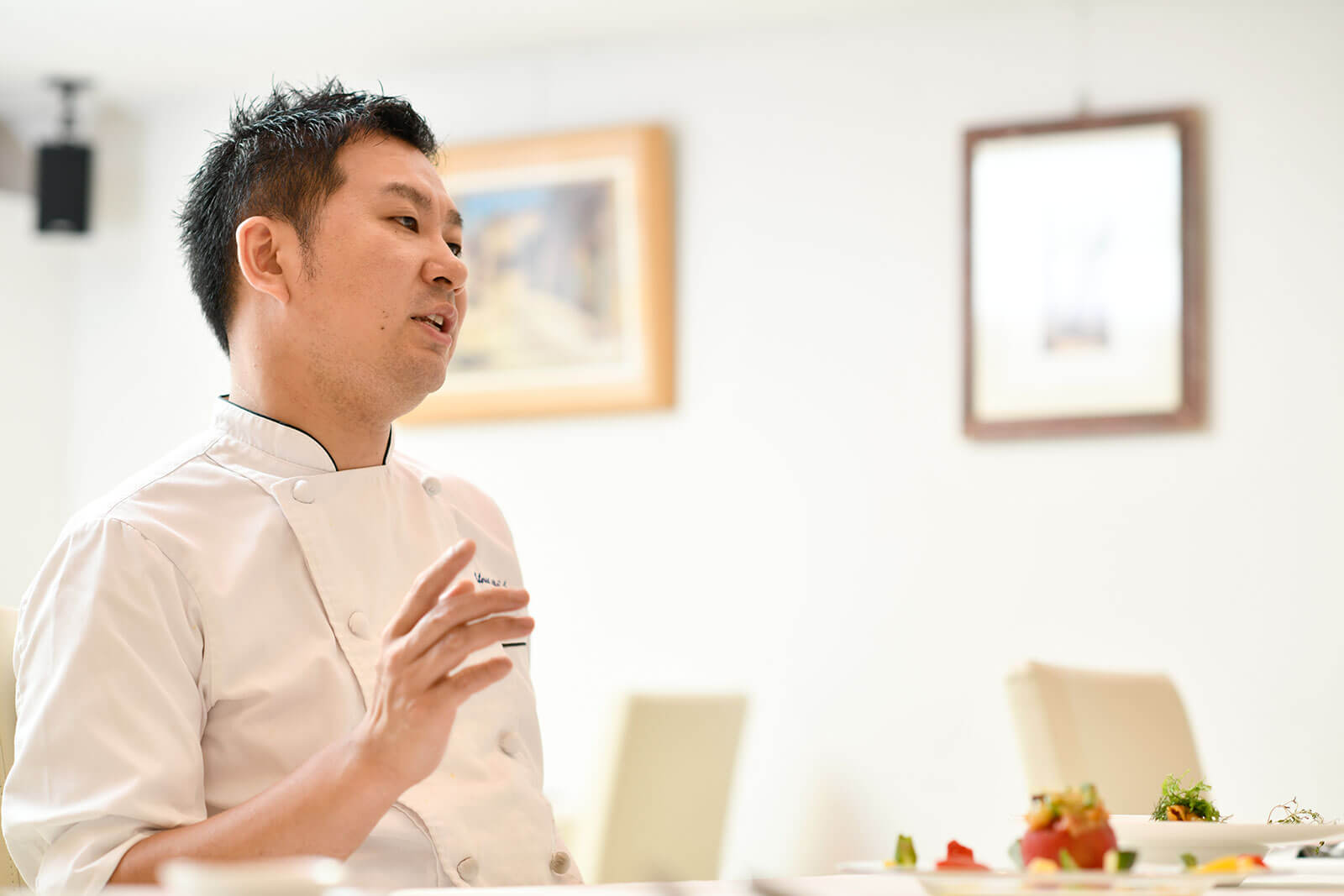 Representative from Osteria Tutto Sole: Chef Sumihiro
Shindo
Osteria Tutto Sole
Wow! This sea pineapple is delicious!
I am originally from Hokkaido (Kushiro), so sea pineapple was a food that was ordinarily found on my dinner table since childhood. My first experience eating sea pineapple was when I was an elementary school student. It was a taste that was shocking which I could not understand, or maybe I should say a taste that I had never experienced before that time. Since becoming an adult with a developed sense of taste, it was served to me as sashimi and it surprised me again…I thought it was amazing. My
mother then said that I wouldn't be able to eat such a food in Tokyo.
Since I know the taste of what has just been caught and know what is fresh, I honestly thought that I would not force myself to eat it in Tokyo. That was until I ate Senrei Sea Pineapple. Even when it was introduced to me and I tried it, at first I was doubtful and thought that it would have a fishy smell. But when I try it, I discovered that it was actually really delicious. It had more taste than I thought and it didn't smell bad at all. So my expectations were completely off because it was delicious.
Sea pineapple from Hokkaido is called aka hoya (red sea squirt). Senrei Sea Pineapple is from the Sanriku area, so it is maboya (sea pineapple), and you can tell the difference between the two by checking if there is any unevenness present. Red sea squirt has slightly more of a sea taste to it. For example, it does not go well with something like tomato, but the flavor of maboya is wellbalanced
with a simple, strong taste that is great. Customers have also tasted it, some saying that this product changed their idea about sea pineapple.
Italian is the best type of Western cuisine for serving sea pineapple
Since I grew up along sea and my mother was a chef of Japanese cuisine, it was natural to eat delicious food while it was in a delicious state, and I think that the essence of my sense for taste comes from that. When I was studying abroad in Piedmont, a region located in northern Italy, I was surprised that the taste of carrots, which I had never normally thought about on a conscious level, was really strong, and it was then that I learned how important ingredients are. Now that food distribution is getting better, delivery of fresh fish and vegetables has now become the norm with vegetables also becoming more delicious. But that is not a matter of course. When thinking about the producers of those products, I think about what we should do on our end. If possible, it is not
that we should just eat the food raw as is, but rather, as much as possible, process them to bring out their taste and sweetness. I think the way to do that is through Italian cuisine.
Sea pineapple has a special taste, but it is not too strong. It can be served with other ingredients or can even be served alone. This means that I need to make the other ingredients served with it a bit harder. Simply serving it with other ingredients topped with a sauce is a waste…rather, a simple cooking method is suitable for sea pineapple. Italian is definitely a type of cuisine that makes use of ingredients. If we take Japanese cuisine out of the picture as it is not a Western cuisine, I think Italian is the best type of Western cuisine in which sea pineapple can be used as an ingredient.
Now, food ingredients from Japan are highly valued abroad. Kombu is even used in three star restaurants, and using ingredients from Japan gives overseas restaurants a unique status. I think the reason why people say that Japanese cuisine is full of variety, delicious, and wonderful is because of the use of such excellent ingredients.
next "1 + 1 = 2" means nothing: the synergistic effect of using sea pineapple with other ingredients leads to something more