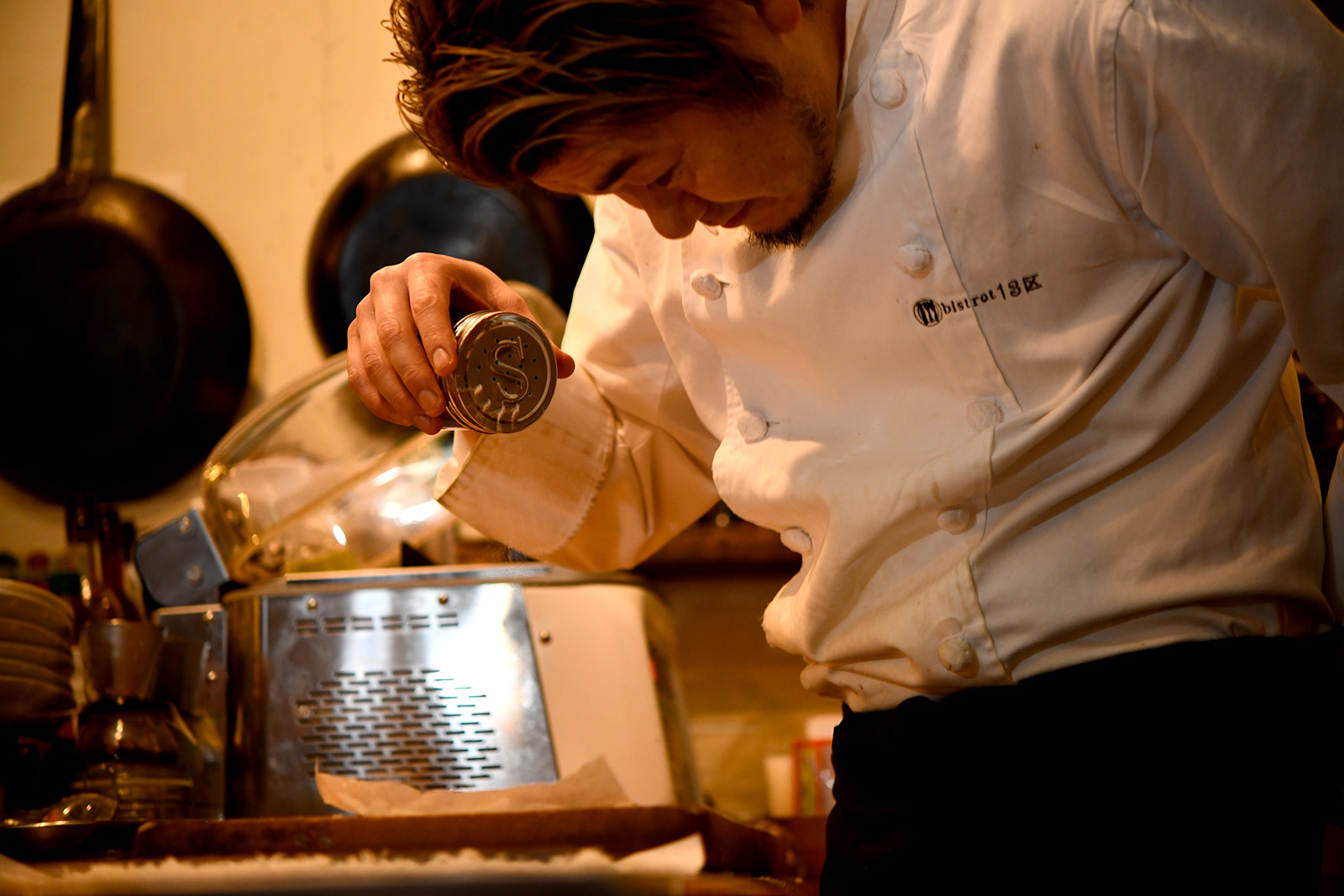 Case Example 9: French restaurant "bistrot13que" in Tokyo
French restaurant "bistrot13que" in Tokyo
Owner/Chef: Mr. Akira Sugawara
Menu of the Day
Variations on sea pineapple – offered with eight adornments
Firstly, the sea pineapples are served unadorned to get a clear sense of their natural taste. (See photos: Front left, then in order to the right and back)
This is followed with a light seasoning of salt, pepper, and olive oil. Then, a walnut oil vinaigrette is added.
Next comes a shoyu (soy sauce) dip, followed by a simple yuzu-kosho (citric salted chili) paste. The next surprise is in the form of a miso (fermented soybean paste), olive oil, and dill condiment. The seventh version features mint. Although this highly aromatic herb is normally paired with meat, these sea pineapples also have a strong flavor that cannot be suppressed. The final pairing is with cheese – specifically Mimolette and Grana Padano. These cheeses are also strongly flavored and aromatic, and can be enjoyed solo, but combine well with sea pineapples. I really want you to savour the mutually enhancing tastes of these pairings.
Sea pineapple rillettes with steamed potato
Rillettes are a preserved food originally made with pork. They are cooked with vegetables and their own fat, and the surface solidifies when it cools down, making them suitable as a preserved food.
Sea pineapples are simply simmered with onions and garlic for this creation. It takes four to five hours of cooking before the sea pineapples can be mashed with a spoon. If you have a recipe, you can follow it, but delicate adjustment is required to achieve perfection. Once you know what the rillettes should be like, you can see the goal.
These are twinned with steamed potatoes, drizzled with extra virgin olive oil and black pepper, and finally decorated with dill – which always complements seafood.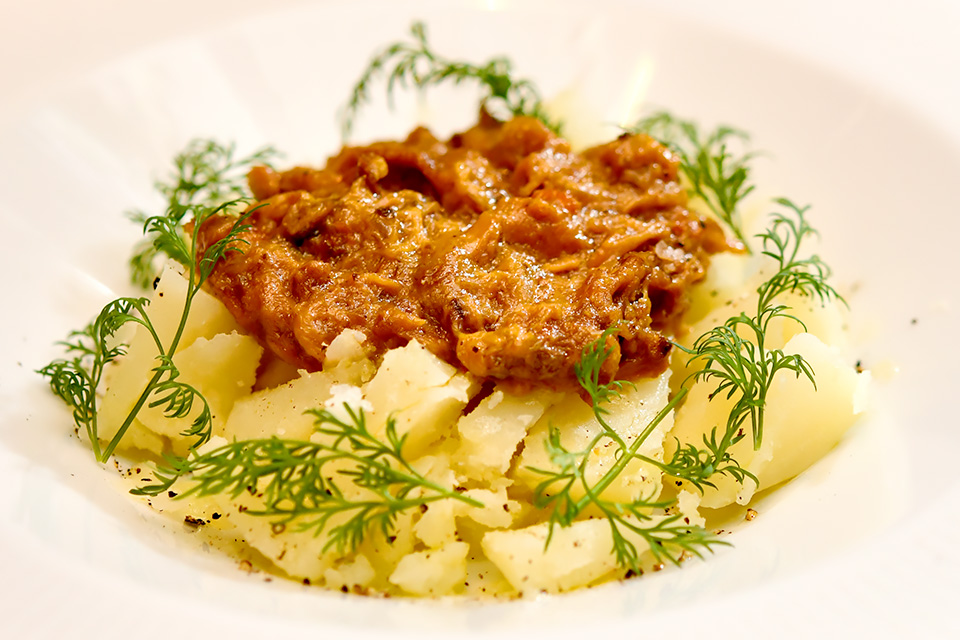 Deep fried sea pineapple wrapped in kadaifi, served with a salad of edible chrysanthemum (shungiku).

Thin kadaifi noodles are used as a batter. Although it is made with flour, it differs from pasta.
This ingredient hails from Turkey and Greece. It has recently become more popular amongst chefs of western cuisine. The crispy texture of the surface is redolent of cutlets.
The use of kadaifi enhances the flavors of the ingredients more than breadcrumbs.
Sea pineapple lightly seasoned with salt and pepper is wrapped in kadaifi, deep fried, and served with edible chrysanthemum (shungiku).
Strongly aromatic vegetables are used intentionally. Use of ingredients with a firm texture and strong aroma creates an interesting effect. This is a good example.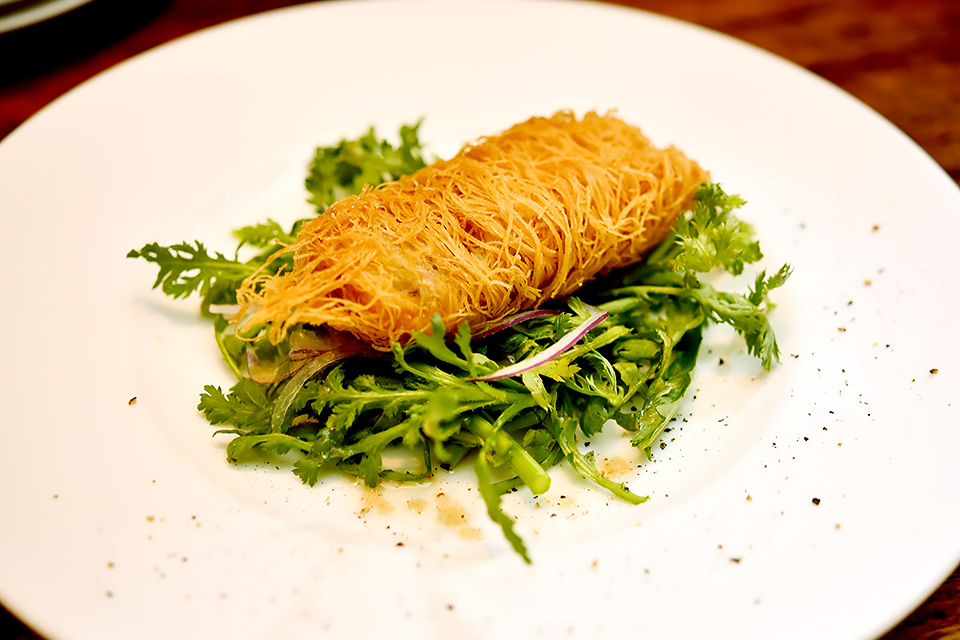 Omelet with sea pineapples and aonori (green laver)
Not only is this a staple at fairs, etc., but we also include this on our regular bistrot13que menu.
We usually include a variety of sea pineapple dishes on the menu. The type of green laver used depends on the season – currently we are using a product from Lake Hamana. We aim to offer a selection of menu items to suit the season.
First, the sea pineapples are lightly sautéed. Then the egg and green laver mixture is poured in, before the dish is completed with some garlic marinated in oil.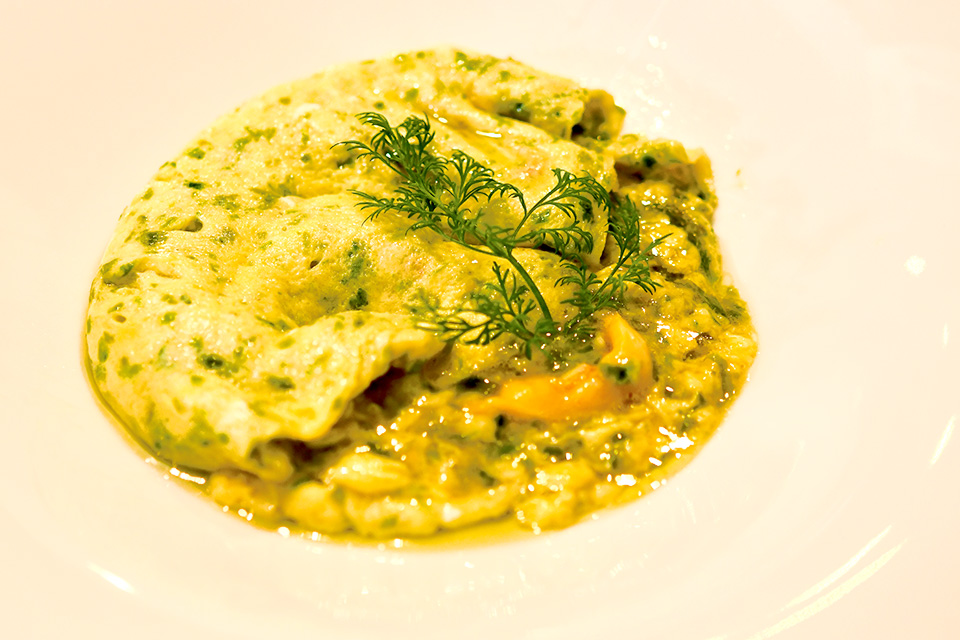 Always making the same dish in the same way affords a sense of security
I have long loved sea pineapples, so I buy them myself, but they are only available in season, and must be used fresh. Much liquid is released when working with sea pineapples in their shells, and much preparation is involved.

"Senrei sashimi-grade sea pineapples" are absolutely perfect in terms of seasonality and freshness. No matter how fresh the fish when purchased, that freshness gradually declines. Our work process changes as that happens. We add seasoning, spices, or time-consuming cooking, etc. We don't need to worry about anything, which is great, as we can always serve the same menu with confidence. We can use these ingredients without the slightest concern.

Furthermore, as they are frozen in small packages, only the necessary portion is thawed out once an order is received – eliminating any surplus. Even when we are busy, they can be cut into the required form after only a couple of minutes at room temperature. Ease of handling is also an important factor in selecting ingredients. If working from a shell, you need to allow plenty of time, but having products like "Senrei sashimi-grade sea pineapples" may encourage us to use them.
[ next ] Chef Sugawara talks about "Sea pineapples" as a food ingredient