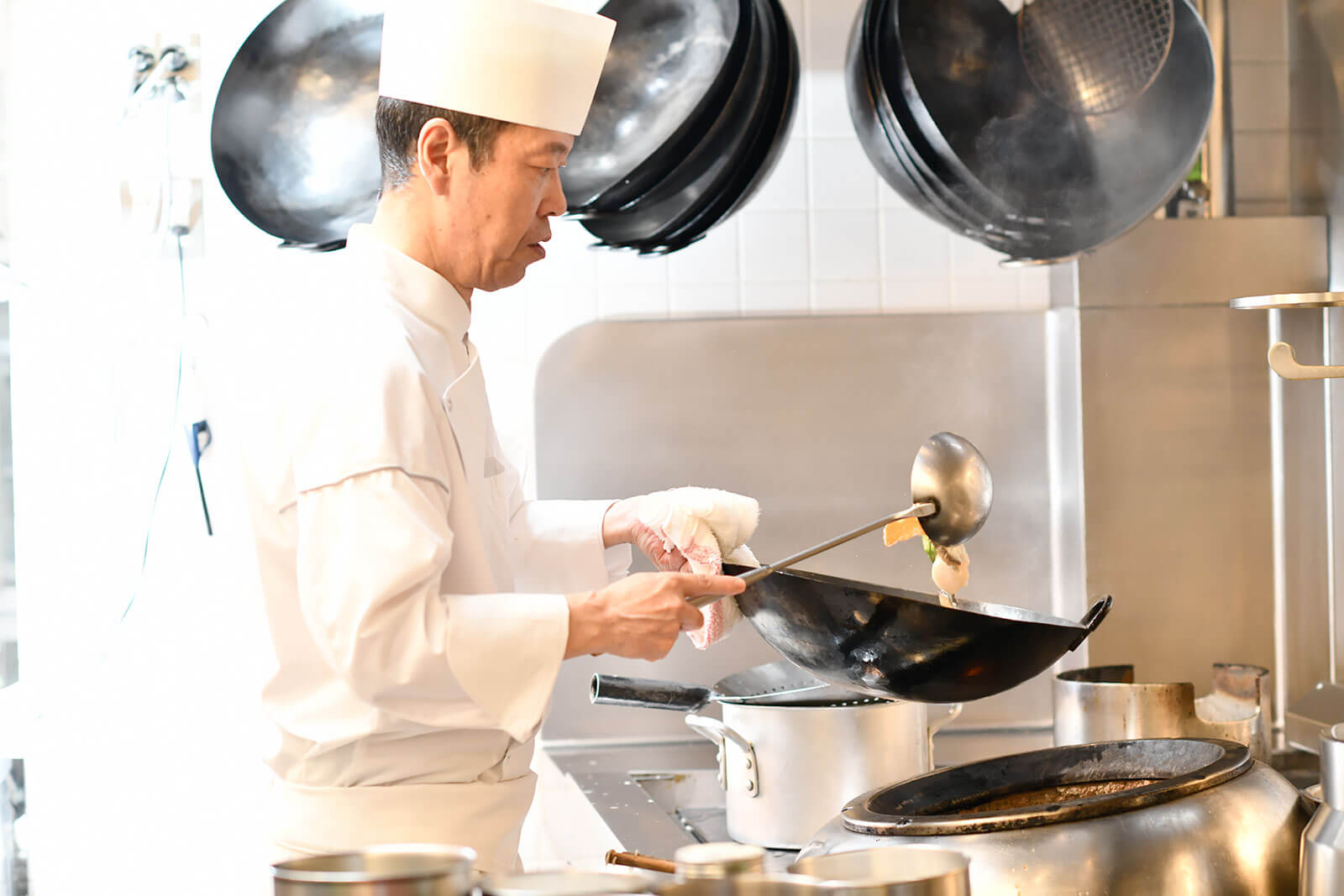 Availability and Balance of Ingredients are Always an Issue
I am the one who mostly decides which ingredients will be used by the restaurant. I also consider the balance between various ingredients after cost and quality. In regards to acquiring ingredients, I think that seafood is the hardest to deal with. Although fresh fish is mostly purchased from Tsukiji, fish may be affected by bad weather in production areas. There were also times when it was difficult to obtain scallops due to poor fishing results.
The point that stable quality is offered consistently is what gives the selecting party the most peace of mind. Although fresh scallops without the shell are being used, I do not clearly know how long it has been from when the scallops were caught to when they were processed. In the case of Senrei Scallops, since I have also seen Senrei's processing facility, I have peace of mind because it is easy to understand that the scallops are processed immediately at the site. As a result, these frozen scallops may be fresher than conventional fresh scallops, so there is no reason to differentiate between fresh and regularly used frozen products. All I need is Senrei Scallops.
We use 20 to 30 kg of scallops per month at our restaurant, so we thought that quantity would be an issue. However, there seems to be no problem on the supply side. We also examine size and quantity while looking at the balance of overall costs.
Trusted product quality opens up menu possibilities
Both of the dishes use 2L size scallops. When using scallops in a restaurant, it is easy to use 2L size scallops or scallops one size lower. However, it seems there are even larger scallops as products which is amazing.
For a future menu item, I thought that it would be a good idea to combine steamed scallops and flavored vegetables. Also, I would like to use fried scallops as a menu item. For example, I look forward to the texture of the scallops coated with sesame or finely chopped bread. As the thickness of the scallops themselves is solid, it is good if something can be caught. Put caviar that can be eaten raw in the middle, slightly fried outside with the inside moist and raw…seems delicious!
I think that level of thickness and sweetness comes from the original quality of those scallops more then the freezing technology used. Since they are high quality, we are able to confidently serve them to customers and seem to provide us with hints for new menu items.
Previous A Level of Quality and Sweetness not Associated with a Frozen Product
---
Chinese Restaurant Star Hill
The Capitol Hotel Tokyu 2F
Enjoy delicate and dynamic menus from a restaurant that keeps with a basic style of Chinese cuisine.Chinese Restaurant Star Hill
The Capitol Hotel Tokyu
Conveniently located in the Nagatacho area of Tokyo providing direct access to the Ginza, Namboku, and Tameike-Sanno Station, The Capitol Hotel Tokyu is a luxury hotel where guests can enjoy the rich greenery of the adjacent Hie Jinja. A sophisticated Japanese Modern space, delivering a high level of peace of mind.